I had all the intentions to be writing this post last night but thanks to a sore throat and achy body, it was a no go. You would assume my achy body was from a earth shattering hangover since it was my birthday weekend and all or my sore throat was from talking loudly in a crazy crowded bar. -Nope. Didn't happen. Whomp. Whomp. But I'm not complaining, instead my niece and her roommate came to visit from college, which was the hubs and I first experience with having college age "kids" who eat anything and everything in your kitchen. Since they came down to visit and it was my father-n-law's birthday the day after mine we decided to cookout fajitas Saturday night with some close friends and family. My awesome mother-in-law made homemade enchiladas, thankfully I refrained from eating all 75 enchiladas she brought. That's called extreme self control, people! I tried to indulge in some adult beverages but it to was a no go because I was to busy trying to be the hostess with the mostess. Eeeekkk! Which is another sign I'm turning into my mother! Apologizes for not taking pictures like a true blogger but I was taking my hostess duties very seriously Saturday night.
All and all we had a good time...until...the hubs got the outdoor TV working just to watch the ass whooping that was UT vs BYU. Just sad. Just plain sad.
But I did get a picture of the beautiful roses and lilies I got this past week from my sweet hubby.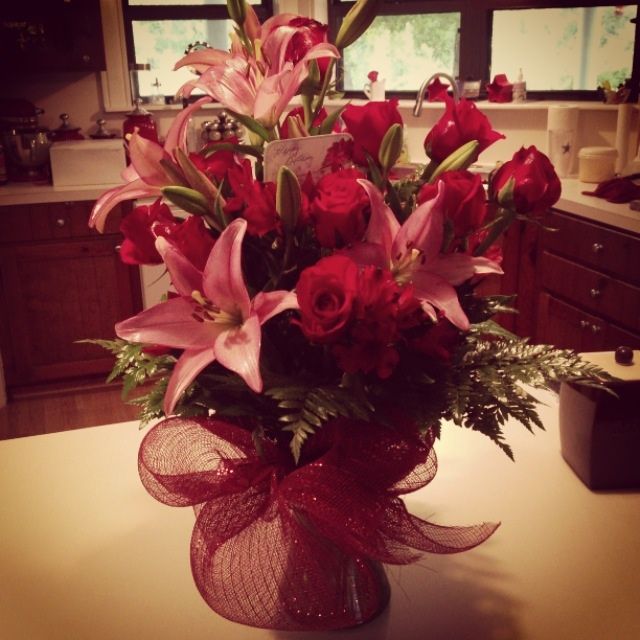 I have a lot going on this week and some changes for the my blog coming up very soon, so be sure to stay tuned!
:)
Have a FABULOUS week!